Designing and building a space for a new baby can be fun and a great way to keep yourself preoccupied while you're counting down the days until your bundle of joy arrives. Transforming a room into a nursery is pretty straightforward but there are a few important considerations to keep in mind throughout the project.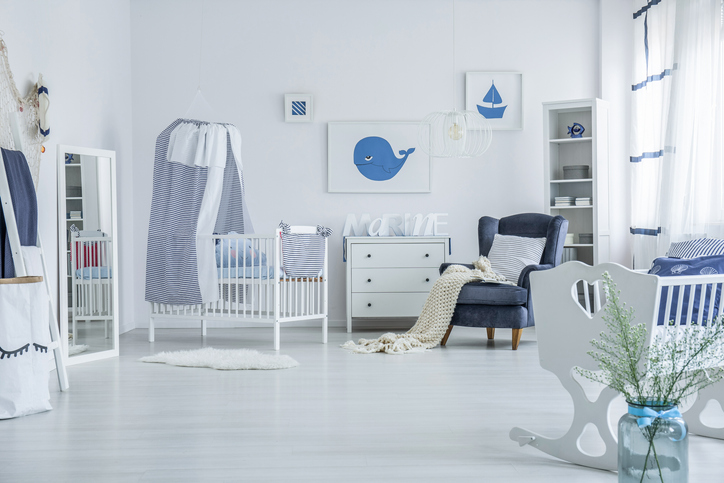 Our expert team of designers and builders at DreamMaker Bath & Kitchen of SE Florida offer the following tips to help.
Avoid Harsh Chemicals
Babies are especially sensitive to the strong odors and chemicals used in many paint products. In fact, they can be sensitive to these hazards even if a cabinet resurfacing or repainting job was not done in their room. Regardless, consult with your designer and request paint products that do not release gases during the curing process. At a minimum, get painting done months in advance of the baby's due date to allow the room to fully air out.
Control Moisture & Ventilation
Consider adding an air purifier to your HVAC system. Proper ventilation is key to maintaining healthy indoor air quality. Ventilating a room is also a good way to prevent excessive amounts of humidity from building up inside a nursery. You want the room to have the correct amount of moisture to avoid dry skin but not so much that it encourages mold growth.
Choose Products Carefully
It's important to carefully scrutinize all products you will use during the build. Even the materials for other projects like bathroom remodeling should be evaluated when you have a baby on the way. Avoid items containing formaldehyde, phenol and urea. This is common in many plastic products as it acts as a preservative.

Let's Start a Conversation!
At DreamMaker Bath & Kitchen of SE Florida, we can help you prepare a nursery that's perfect for your little one. Let's start a conversation! Just give us a call at (772) 288-6255 or fill out our contact form to start a conversation. We serve families in Jupiter and all nearby Florida communities.